The Print Journalist
Journalism matters to us all.
Because the truth matters.
But journalism really matters to me.
Because in its pursuit I have got
to see the heart and mind
at their best
their worst
and most places in between.
So do us all a favor
and go buy a damned newspaper.
There's a huge biological change happening on the banks that extend off Newfoundland and Labrador's northeastern coast.
The northern cod are coming back.
And they're eating the shrimp that had taken over.
"I'm aware of the irony that he worked for a company that paved roads," said Ms. Carver, who is now raising the couple's two boys, 11 and 10, alone.
"We'll never know, if the highway was twinned, would Benjamin still be here?"
I am Aaron Beswick
I am a 36 year old print journalist. The words and photos on this page are my own.
Those of us who remain in this profession should savour it.
I need to be part of journalism's future.
Like a dog needs a bone. Like a smoke needs a match. Like a story needs to be told.
aaronbeswick@yahoo.com @CH_ABeswick (902) 867-4551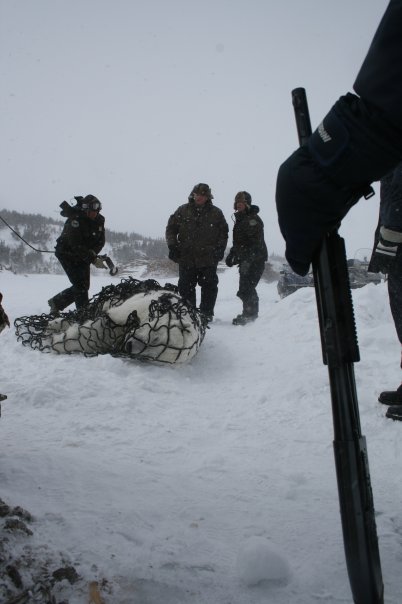 F5 and Be There
A bureau reporter typically works alone. This gives him or her (in this case me) the privilege of being multiple things at once: writer, photographer and videographer. The same guiding rule applies for each role: Be There. Knock on that door. Hop aboard that boat. Walk down that alley. When you get there, know that your smartphone isn't a camera. Shutter speed, aperature and ISO - light and time - those are the tools of the visual journalist.
You break the story.
Then the real work begins.
"We're going to have to postpone your tour of the mill. We've got a small leak so we are shutting down as a precaution while we fix it."
There are few more desperate than a communication specialist tasked with improving the environmental image of a kraft pulp mill in northern Nova Scotia on the morning that a pipe ruptures and spews 70 million litres of untreated effluent into a wetland behind a First Nation community.
It was June 10, 2014 and in his despair, the spokesman had violated the first rule of being a flak: don't give the scent.
Pictou Landing First Nation Chief Andrea Paul arrived at her office at 8:30 a.m. to find me waiting out front.
"They've got the road blocked, you won't get down there," I warn after informing her of the leak..
"I'd like to see them try to stop me," says chief Paul.
"Hop aboard my rig."
But life is complicated. That mill is a cornerstone of the entire forestry industry for northern Nova Scotia and despite its failings, significant expenditures have been made to make it both more financially and environmentally sustainable.
In journalism, it is the follow-through that matters.
A toxic legacy of false promises, backroom deals and economic desperation
Wonder
Our world is fascinating. This job is a licence to learn why.
Journalism is a Passion
The things that burn within us also possess the ability to consume us.
Seek community, friends and hobbies that don't involve a computer, a notebook and a camera.
Talk to people for the sake of taking an interest in their lives and turn off your phone.